Announcing Creation Crate 2.0! Augmented Reality, Facebook Messenger Tokens, and A FREE Online Classroom.
Creation Crate launched in 2016 and has educated over 3,000 makers from around the world with their 12-month subscription tech education curriculum. The tech-ed subscription curriculum has been restructuring education by focusing on using the newest technology available to expand the capabilities of "experiential learning". 
After listening to user's feedback, Creation Crate has designed updates to the curriculum called Creation Crate 2.0. 
Creation Crate 2.0 will include augmented reality, facebook messenger tokens, and a free online classroom for the public!
The 3 new features will be available for pre-order through Indiegogo on November 7th, 2017. Users will be able to pre-order these new features 30% off from the planned retail price. 
Feature #1 – Augmented Reality
Using a phone/devices camera, users will be able to interact with a digital teacher that takes them step by step through their entire Arduino project. In the moment, users will be able to learn at their speed and have a full 3d view of what the entire Arduino project looks like.
With our digital teacher "Hal", you can explore as little or in-depth as you want to on any given topic.
Feature #2 – Facebook Messenger Tokens
Don't know what a component does? Don't spend your time googling it, use the Facebook Messenger Token to bring tutorial videos directly to your Facebook Messenger App.
Each component comes with a scannable token. Simply open Facebook messenger app, go to "scan code", and scan the code of the component you are working on in your project.
In Facebook Messenger, engage with our chatbot menu to explore what you can learn in electronics.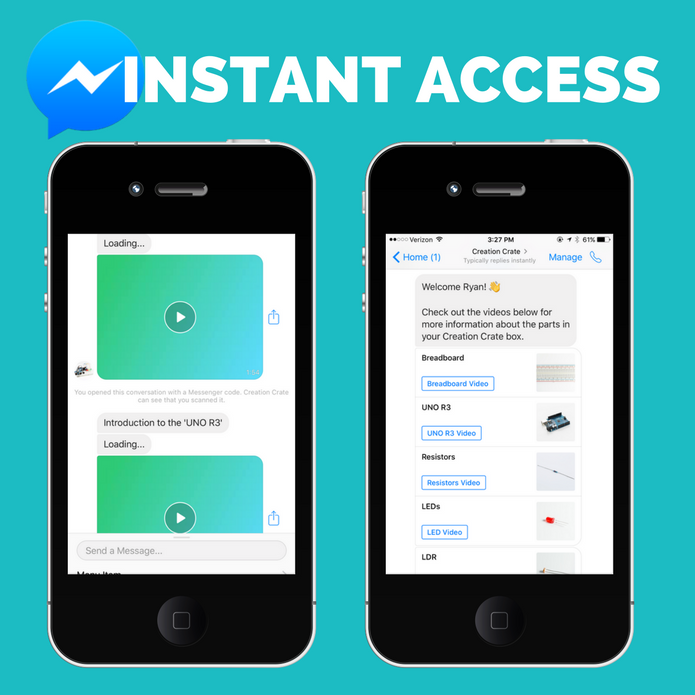 Ask questions, explore tutorials, and see what other projects you can create with these components.
Feature #3 – Free Online Classroom
Our teachers are working hard to create a database of informative hands-on programming lessons. The entire public will have access to all the video tutorials and lesson pages. These lessons will take users step by step on everything Arduino. From beginner tutorials to expert insider lessons. Creation Crate will never stop creating content for the public!
Feature #4 – Ultimate Maker Kit 
The "Ultimate Maker Kit, Classroom Edition" is our entire 12-month curriculum inside ONE KIT.
A kit like this has always been on our roadmap.  Now, due to the incredible number of educators who have told us that they have been looking for something like Creation Crate to use in the classroom, we decided to accelerate its development.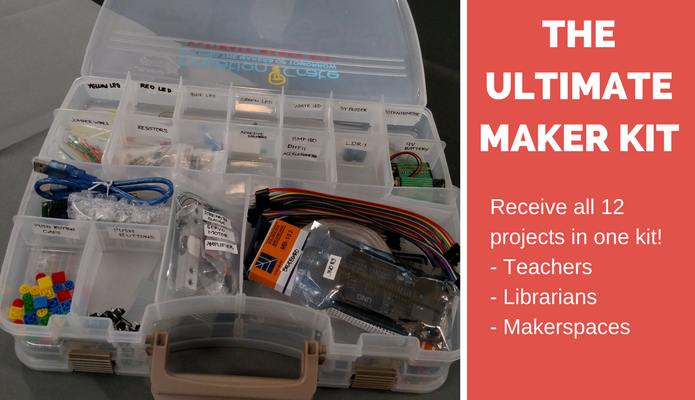 Educators, whether in the classroom, starting an after-school program, or in a makerspace or library, can bring the hands-on experience of building electronic circuits and learning to code to students with this turn-key program.
We provide all the materials and background information so, even if you are an educator with no experience in these subjects, you can get started immediately.
A re-useable and re-stockable, tight-locking container will house all of the parts. (Recommended for middle-school – young professionals)
Want to see some projects from our current curriculum?
Mood Lamp
Memory Game
Distance Detector
Links:
Our Home Page: www.creationcrate.com
Indiegogo Page: www.mycreationcrate.com
Join our 2.0 Waitlist Facebook Group: https://www.facebook.com/groups/creationcrate/
Creation Crate Logo: Click Here To Download
Creation Crate Project Images: Click Here To Download
Images/Giff of New Features: Click Here To Download